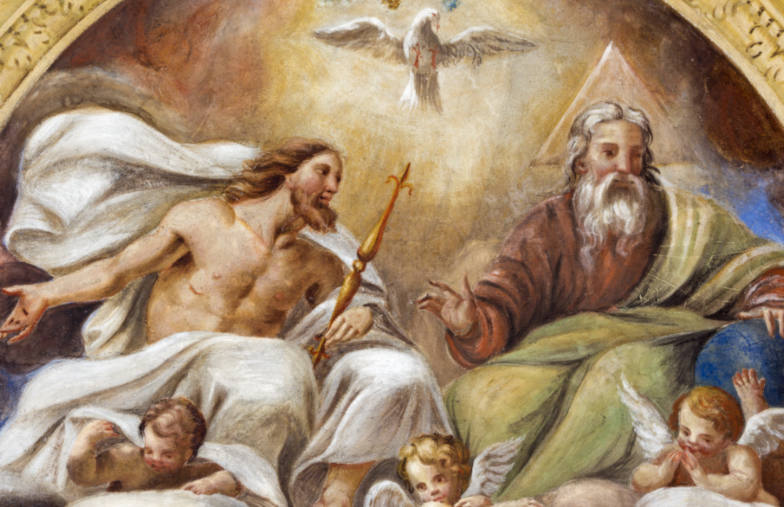 We all want God to love us. The omnipotent (all-powerful), omnipresent (being everywhere at the same time), omniscient (all-knowing), pantocrator (ruler of all), infinite, eternal God to love us. Everything is possible for God and when He loves us He is for us. Romans 8:31: "If God is for us, who can be against us?" God will annihilate our enemies. This article explains how we can convince God to love us. God does not love us unconditionally as the following verses tell us.
John 14:21: Jesus Christ: "Whoever has my commands and keeps them is the one who loves me. The one who loves me will be loved by my Father, and I too will love them and show myself to them."
The verse above sets a condition: "the one who loves me will be loved by my Father, and I too will love them and show myself to them": we have to love God to love us back. And how we love God: "whoever has my commands and keeps them is the one who loves me."

John 14:23 (NKJV): Jesus answered and said to him, "If anyone loves Me, he will keep My word; and My Father will love him, and We will come to him and make Our home with him."
The above verse says how we can love Jesus: "he will keep my word" Then God the Father and Jesus Christ the Son will fill the one who keeps Christ's word because "My Father will love him, and We will come to him and make Our home with him" means God will dwell in us He will fill us. That is we will be filled with the Holy Spirit. The Holy Spirit is the activity of God.

John 15:9-10: Jesus Christ: "As the Father has loved me, so have I loved you. Now remain in my love. If you keep my commands, you will remain in my love, just as I have kept my Father's commands and remain in his love."
What does you remain in my love mean? It means I love you. I am one with you.

1 John 4:12: "No one has ever seen God; but if we love one another, God lives in us and his love is made complete in us."
The above text says if we love one another God will love us. Love one another means keep God's commands: you shall not steal, you shall not desire what belongs to your neighbor, you shall not kill...

Deuteronomy 7:9: "Know therefore that the Lord your God is God; he is the faithful God, keeping his covenant of love to a thousand generations of those who love him and keep his commandments."
The same applies to the above words if we keep God's commandments God will love us: "keeping his covenant of love."

Proverbs 8:17: Wisdom: "I love those who love me, and those who seek me find me."
How can we get wisdom? How can we make wisdom love us? By loving and seeking wisdom.

1 John 2:3-6: "We know that we have come to know him if we keep his commands. Whoever says, "I know him," but does not do what he commands is a liar, and the truth is not in that person. But if anyone obeys his word, love for God is truly made complete in them. This is how we know we are in him: Whoever claims to live in him must live as Jesus did."
The words above say if we obey Jesus' commands then we are in Jesus.

2 Peter 2:4-10: "For if God did not spare angels when they sinned, but sent them to hell, putting them in chains of darkness to be held for judgment; if he did not spare the ancient world when he brought the flood on its ungodly people, but protected Noah, a preacher of righteousness, and seven others; if he condemned the cities of Sodom and Gomorrah by burning them to ashes, and made them an example of what is going to happen to the ungodly; and if he rescued Lot, a righteous man, who was distressed by the depraved conduct of the lawless (for that righteous man, living among them day after day, was tormented in his righteous soul by the lawless deeds he saw and heard)— if this is so, then the Lord knows how to rescue the godly from trials and to hold the unrighteous for punishment on the day of judgment. This is especially true of those who follow the corrupt desire of the flesh and despise authority.
Bold and arrogant, they are not afraid to heap abuse on celestial beings;"
The above passage tells us that the Lord knows how to rescue the godly (righteous) from trials. The godly are saved by God.

John 14:15-17: Jesus Christ: "If you love me, keep my commands. And I will ask the Father, and he will give you another advocate to help you and be with you forever— the Spirit of truth. The world cannot accept him, because it neither sees him nor knows him. But you know him, for he lives with you and will be in you."
The just above text is very important. What is our aim? What do you want from life? If you had a wish what it would be? I think is to have God dwell in us. God dwells in us when we are filled with His Holy Spirit. Saint Seraphim of Sarov said: "The true aim of our Christian life is the acquisition of the Holy Spirit of God." According to Apostle Paul the fruit of the Holy Spirit is: love, joy, peace, forbearance, kindness, goodness, faithfulness, gentleness, self control. Is that all? No. Fruit of the Holy Spirit can be wisdom, extreme intelligence, strength: Judges 15:14-15: "As he approached Lehi, the Philistines came toward him shouting. The Spirit of the Lord came powerfully upon him. The ropes on his arms became like charred flax, and the bindings dropped from his hands. Finding a fresh jawbone of a donkey, he grabbed it and struck down a thousand men." "The Spirit of the Lord came powerfully upon him", it appears three times for Samson giving him supernatural, physical, muscular strength. The Holy Spirit can give any gift: Isaiah 11:1-3: "A shoot will come up from the stump of Jesse; from his roots a Branch will bear fruit. The Spirit of the Lord will rest on him— the Spirit of wisdom and of understanding, the Spirit of counsel and of might, the Spirit of the knowledge and fear of the Lord— and he will delight in the fear of the Lord. He will not judge by what he sees with his eyes, or decide by what he hears with his ears;"
The above Holy Bible passage says how we can have the Holy Spirit of God (the Spirit of truth) in us: "keep my commands."

1 Corinthians 2:9: "However, as it is written:
"What no eye has seen, what no ear has heard, and what no human mind has conceived"—
the things God has prepared for those who love him—"
Here Apostle Paul says God will honor, gift, satisfy, make happy "those who love him(God)". How can we love Him? As it was previously explained by keeping His commandments.

Does God love us unconditionally? No, He does not. In the above verses John 14:23, John 15:9-10, 1 John 4:12, 1 John 2:3-6, John 14:15-17 there are conditional clauses: there is the word if. They are all saying if we keep God's commands God will love us and be in us.
There is the verse John 3:16: "For God so loved the world that he gave his one and only Son, that whoever believes in him shall not perish but have eternal life." You are not reading until the end of the paragraph where there is the verdict John 3:16-21: "For God so loved the world that he gave his one and only Son, that whoever believes in him shall not perish but have eternal life. For God did not send his Son into the world to condemn the world, but to save the world through him. Whoever believes in him is not condemned, but whoever does not believe stands condemned already because they have not believed in the name of God's one and only Son. This is the verdict: Light has come into the world, but people loved darkness instead of light because their deeds were evil. Everyone who does evil hates the light, and will not come into the light for fear that their deeds will be exposed. But whoever lives by the truth comes into the light, so that it may be seen plainly that what they have done has been done in the sight of God."
"This is the verdict": sinners (do evil) will be separated from God (light).

Yes, God can hate. According to dictionaries abhors means regard with disgust and hatred: please, read the passages below from the Holy Bible.
What is happening right now is God is yelling at us two things:
1. Repent:
Psalm 5:5: "The arrogant cannot stand in your presence. You hate all who do wrong;"

Psalm 11:5: "The Lord examines the righteous, but the wicked, those who love violence, he hates with a passion."

Zechariah 8:17: "do not plot evil against each other, and do not love to swear falsely. I hate all this," declares the Lord.

Hosea 9:15-17: God: "Because of all their wickedness in Gilgal,
I hated them there.
Because of their sinful deeds,
I will drive them out of my house.
I will no longer love them;
all their leaders are rebellious.
Ephraim is blighted,
their root is withered,
they yield no fruit.
Even if they bear children,
I will slay their cherished offspring."
My God will reject them
because they have not obeyed him;
they will be wanderers among the nations.

Leviticus 20:22-23: God: "'Keep all my decrees and laws and follow them, so that the land where I am bringing you to live may not vomit you out. You must not live according to the customs of the nations I am going to drive out before you. Because they did all these things, I abhorred them.

Leviticus 26:14-46: God:
Punishment for Disobedience
"'But if you will not listen to me and carry out all these commands, and if you reject my decrees and abhor my laws and fail to carry out all my commands and so violate my covenant, then I will do this to you: I will bring on you sudden terror, wasting diseases and fever that will destroy your sight and sap your strength. You will plant seed in vain, because your enemies will eat it. I will set my face against you so that you will be defeated by your enemies; those who hate you will rule over you, and you will flee even when no one is pursuing you.
"'If after all this you will not listen to me, I will punish you for your sins seven times over. I will break down your stubborn pride and make the sky above you like iron and the ground beneath you like bronze. Your strength will be spent in vain, because your soil will not yield its crops, nor will the trees of your land yield their fruit.
"'If you remain hostile toward me and refuse to listen to me, I will multiply your afflictions seven times over, as your sins deserve. I will send wild animals against you, and they will rob you of your children, destroy your cattle and make you so few in number that your roads will be deserted.
"'If in spite of these things you do not accept my correction but continue to be hostile toward me, I myself will be hostile toward you and will afflict you for your sins seven times over. And I will bring the sword on you to avenge the breaking of the covenant. When you withdraw into your cities, I will send a plague among you, and you will be given into enemy hands. When I cut off your supply of bread, ten women will be able to bake your bread in one oven, and they will dole out the bread by weight. You will eat, but you will not be satisfied.
"'If in spite of this you still do not listen to me but continue to be hostile toward me, then in my anger I will be hostile toward you, and I myself will punish you for your sins seven times over. You will eat the flesh of your sons and the flesh of your daughters. I will destroy your high places, cut down your incense altars and pile your dead bodies on the lifeless forms of your idols, and I will abhor you. I will turn your cities into ruins and lay waste your sanctuaries, and I will take no delight in the pleasing aroma of your offerings. I myself will lay waste the land, so that your enemies who live there will be appalled. I will scatter you among the nations and will draw out my sword and pursue you. Your land will be laid waste, and your cities will lie in ruins. Then the land will enjoy its sabbath years all the time that it lies desolate and you are in the country of your enemies; then the land will rest and enjoy its sabbaths. All the time that it lies desolate, the land will have the rest it did not have during the sabbaths you lived in it.
"'As for those of you who are left, I will make their hearts so fearful in the lands of their enemies that the sound of a windblown leaf will put them to flight. They will run as though fleeing from the sword, and they will fall, even though no one is pursuing them. They will stumble over one another as though fleeing from the sword, even though no one is pursuing them. So you will not be able to stand before your enemies. You will perish among the nations; the land of your enemies will devour you. Those of you who are left will waste away in the lands of their enemies because of their sins; also because of their ancestors' sins they will waste away.
"'But if they will confess their sins and the sins of their ancestors—their unfaithfulness and their hostility toward me, which made me hostile toward them so that I sent them into the land of their enemies—then when their uncircumcised hearts are humbled and they pay for their sin, I will remember my covenant with Jacob and my covenant with Isaac and my covenant with Abraham, and I will remember the land. For the land will be deserted by them and will enjoy its sabbaths while it lies desolate without them. They will pay for their sins because they rejected my laws and abhorred my decrees. Yet in spite of this, when they are in the land of their enemies, I will not reject them or abhor them so as to destroy them completely, breaking my covenant with them. I am the Lord their God. But for their sake I will remember the covenant with their ancestors whom I brought out of Egypt in the sight of the nations to be their God. I am the Lord.'"
These are the decrees, the laws and the regulations that the Lord established at Mount Sinai between himself and the Israelites through Moses.

Deuteronomy 28:15-22-68: Moses:
Curses for Disobedience
"However, if you do not obey the Lord your God and do not carefully follow all his commands and decrees I am giving you today, all these curses will come on you and overtake you:
You will be cursed in the city and cursed in the country.
Your basket and your kneading trough will be cursed.
The fruit of your womb will be cursed, and the crops of your land, and the calves of your herds and the lambs of your flocks.
You will be cursed when you come in and cursed when you go out.
The Lord will send on you curses, confusion and rebuke in everything you put your hand to, until you are destroyed and come to sudden ruin because of the evil you have done in forsaking him. The Lord will plague you with diseases until he has destroyed you from the land you are entering to possess. The Lord will strike you with wasting disease, with fever and inflammation, with scorching heat and drought, with blight and mildew, which will plague you until you perish...This passage continues with similar words as the passage above: Leviticus 26:14-46.

Matthew 13:41-43: Jesus Christ: "The Son of Man will send out his angels, and they will weed out of his kingdom everything that causes sin and all who do evil. They will throw them into the blazing furnace, where there will be weeping and gnashing of teeth. Then the righteous will shine like the sun in the kingdom of their Father. Whoever has ears, let them hear."

Luke 13:3: Jesus Christ: "I tell you, no! But unless you repent, you too will all perish."

Revelation 21:7-8: God: "Those who are victorious (over sin) will inherit all this, and I will be their God and they will be my children. But the cowardly, the unbelieving, the vile, the murderers, the sexually immoral, those who practice magic arts, the idolaters and all liars—they will be consigned to the fiery lake of burning sulfur. This is the second death."
2. Stop watching and intervening in the personal affairs of Charis Alexandrou. The FBI is mainly to blame. It is with their bugs that you are watching me. The FBI has been harassing me all my life. They plan to talk with my wife as they do, now, with my mother. Nobody will talk with my wife. You will bow down to her. They say because I am dangerous. When I am cornered I am dangerous. If everything was fine with me would I be dangerous? They are determined never to stop and to lie that they will stop. When you stop the calamities will stop. Please, remove all bugs and cameras that are/were used for watching me. When I leave my house I see people. You argue that I affect them, their eyes or their ears or both. Please, when I look at you whether on the streets or your photograph say the following prayer while you cross your body with your right hand: Lord Jesus Christ protect me and bless me. All people know me. Also, read love wins. Do not find excuses.
In my view we are doing great. Now, people are praying as never before and there is a great revival of Christianity. You say look at what is happening. Please, bear in mind:
Luke 14:11: Jesus Christ: "For all those who exalt themselves will be humbled, and those who humble themselves will be exalted."
James 4:10: "Humble yourselves before the Lord, and he will lift you up."
Jesus Christ suffered extreme humiliation He was ridiculed, beaten and crucified but He resurrected.









Go to the Home page.
Go to the Early Jewish Writings.